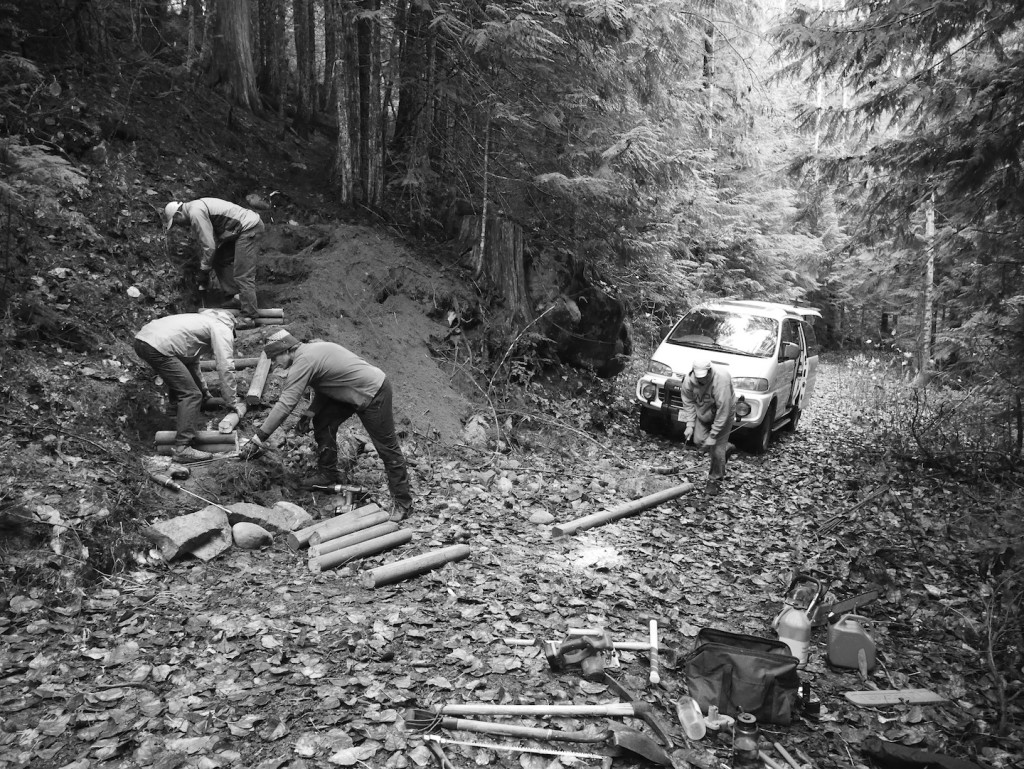 On November 2, a group of volunteers enjoyed some late-autumn sunshine at the Koch Creek climbing area in the Slocan Valley and built a new access trail for the Hydro and Glacier Slabs there. Sponsored by CASBC's Adopt-a-Crag program and organized by the group's Kootenay chapter, TAWKROC, the crew changed the entrance of the access trail, positioning it 30m along the skid track from the car park so climbers will no longer have to walk down the road to the trailhead. There they built stairs and then spent the day brushing, digging steps, carving switchbacks and clearing blow-downs.
Part of the reason the trail needed to be re-situated was the old one followed the hydro lines and a few years ago contractors brushed the entire area, falling trees and bushes all around the landscape and completely obscuring the pathway. With the new trail, there is only a small section that crosses that area and so there will be a lot less maintenance required in the future.
With the shortened daylight hours, the volunteers were only able to build the trail and could not set to work replacing the old anchors, some of which have been around since the early 1990s, nor could they clean some of the cracks that have seen little use over the years. However, another volunteer day will be organized for the onset of the 2015 season and there are a number of cracks and lines that still have yet to be done – the potential of this area is excellent.
TAWKROC would like to thank CASBC as well as the volunteers David Lussier, Bob Sawyer, Khaled Ben-rahba, Craig Stowell, Vince Hempsall, Hannah Roy and JT Croston for their volunteer efforts.
For more about Koch Creek, check out page 113 in the West Kootenay Climbing Guide. And for more photos of the day, log on to the Rock Guide Updates page on Wonow Media.