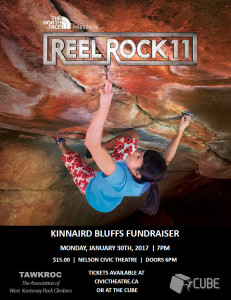 For the first time ever The Association of West Kootenay Rock Climbers, along with the Cube Climbing Centre, hosted the annual Reel Rock tour at the Civic Theatre in Nelson on Monday, January 30th at 7pm.
The event was almost sold out (only 20 seats empty of the 300 at the theatre) and about $4,000 was raised from ticket sales and the raffle draw. Tons of swag was given out at the event and attendees enjoyed the five awesome rock climbing flicks, including "Boys in the Bugs." the film showcasing Will Stanhope's hardest free line in the Bugaboos.
Proceeds from the event have gone towards the Save Kinnaird Bluffs fund – although the property was purchased last year, there's still an outstanding debt of $15,000 that needs to be paid back so that TAWKROC doesn't lose ownership and the property falls into the hands of a developer.
The event also included slideshows by Nelson pilot and photographer Douglas Noblet, owner of Wild Air Photography, and local climber and photographer Steve Ogle.