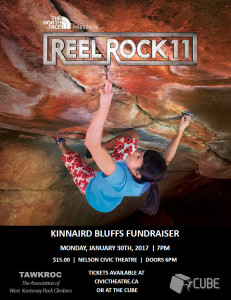 For the first time ever The Association of West Kootenay Rock Climbers, along with the Cube Climbing Centre, will be hosting the annual Reel Rock tour at the Civic Theatre in Nelson on Monday, January 30th at 7pm.
The entire Kootenay rock climbing and mountaineering community is invited to the event which will feature five awesome rock climbing flicks delivering edge-of-your-seat action, globe-trotting exploration, big laughs and true inspiration. Included is the film showcasing Will Stanhope's hardest free line in the Bugaboos.
Proceeds from the event will go towards the Save Kinnaird Bluffs fund – although the property was purchased last year, there's still an outstanding debt of $15,000 that needs to be paid back so that TAWKROC doesn't lose ownership and the property falls into the hands of a developer.
The event will also include a slideshow by Nelson pilot and photographer Douglas Noblet, owner of Wild Air Photography, and the "True North" short film by local climber and photograph Steve Ogle. There'll also be prize giveaways, a raffle and more.
Tickets are $15 and can be purchased in person at the Cube Climbing Gym or via the Civic Theatre's website.
See you there!
Oh, and here are the other movies you can expect to see expect at the event:
BOYS IN THE BUGS
Will Stanhope and Matt Segal are elite-level crack climbers and world-class goofballs. Laugh along as they go for broke on an epic four-year battle to climb a forbidding 5.14 finger crack high in the Canadian alpine wilderness of the Bugaboos.
BRETTE
Follow rising talent Brette Harrington on a global journey from her hometown granite in Squamish to the big wall proving ground of Yosemite's El Capitan and onto a landmark free solo in Patagonia.
RAD DAD
Lone wolf Mike Libecki travels to the most remote corners of the globe to find unclimbed walls and establish first ascents. When Mike becomes a father, he has a new challenge: to reconcile his life of adventure with the demands of parenthood, but he may also gain a new partner for his expeditions.
YOUNG GUNS
Meet the new faces of climbing: 15-year-old Ashima Shiraishi and 16-year-old Kai Lightner are the leaders of the next generation, already taking the sport to the next level. A trip to Norway puts their skills to the test, and Ashima attempts to make history on a V15 boulder in Japan.
DODO'S DELIGHT
Pack your penny whistle and batten down the hatches for a madcap sailing adventure in the Arctic Circle aboard the good ship Dodo's Delight. Join Sean Villanueva O'Driscoll, Ben Ditto, and brothers Nico and Olivier Favresse for a rollicking musical journey across open seas and up unclimbed big walls.