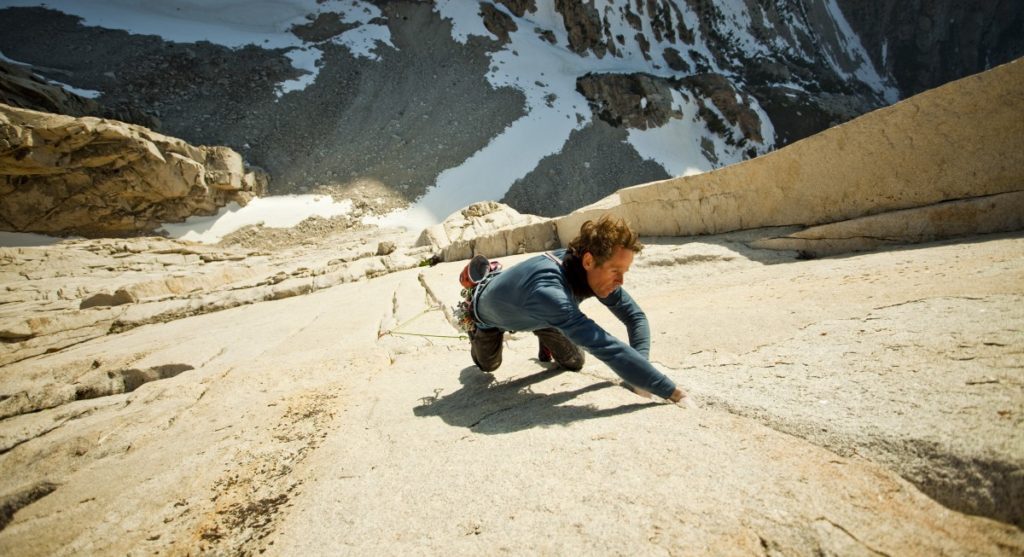 The Association of West Kootenay Rock Climbers
TAWKROC Annual General Meeting
Tuesday, April 28, 2020, 7 pm
Online meeting via WebEx platform
Present: Vince Hempsall, Craig Stowell, Khaled BenRabha, Jayme Moye, Ian McDonald, Erin Bates, Brandon Weller, Delia Roberts, David Lussier, Greg Amos, Darren Tremaine, Yann Troulet, Kevin Fairbairn, Viv Hughan, Hamish Mutch, Daniel Raber, Mark Tallman, Jazmine Lowther, Hannah Gray, Marc Beaton, Shannon Carter, Danielle D'Aleo, Jean-Francois Hardy, Andrew Murray, Cam Shute, Stephanie Frioud, Scott Jeffery.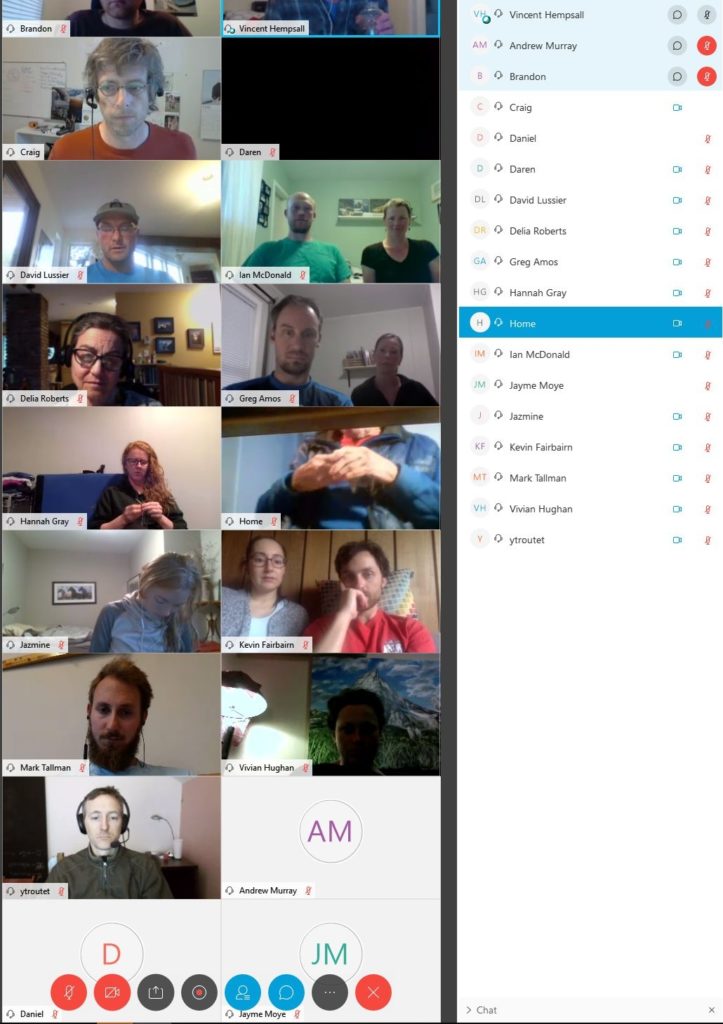 Welcome and call to order
Vince calls to order. Ian approves, and Delia Roberts seconds. Approval of agenda Vince motions Yann approves / Craig seconds Introductions – 9 current directors are: Vince Hempsall, Craig Stowell, Dave Lussier, Khaled BenRabha, Delia Roberts, Yann Troutet, Jayme Moye, Ian McDonald, Bob Sawyer – 2 directors terms are up: YT, IM – 5 directors are stepping down (VH, DL, KB, BS, JM) – 2 directors are standing for re-election: YT, IM
---
Treasurer's Report
Presented by Delia Roberts: – Expenses for the past year: $19,138.03 – Income for the year: $38,691.42 – Monetary Assets: $83,262.47 – Kinnaird Assessment: As of July 1, 2019 it was $65,400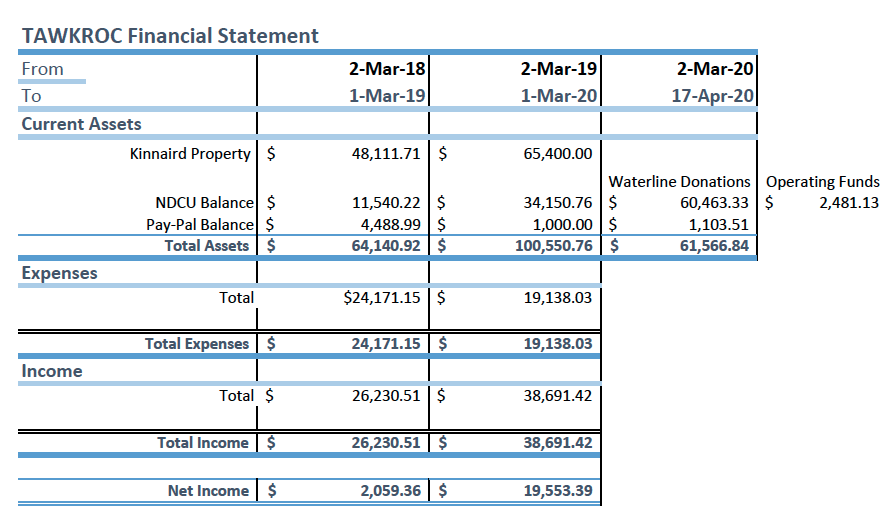 Major donors to the Waterline Wall fundraising campaign ($1000+) include: Columbia Basin Trust, Alpine Club of Canada, David Bristow, Andrew Murray, Kootenay Mountaineering Club, Summit Mountain Guides, The Cube Climbing Gym, Hamish Murch, CASBC, Trevor Greene, Andrew Murland and Teck, Fay Schwartz Memorial Fund and VPO Nelson with in-kind donations. And big thanks to The Lions Head Pub, which has hosted the festival for the past 8 years and which has supported us with money, swag and so much more. Approval of treasurer's report: Yann Troulet motions. Erin Bates seconds.
---
President's Report
I promised three pieces of good news during this meeting and I'll get to those shortly but first I want to thank all the board members, past and present who have helped create TAWKROC over the course of the past decade. A lot of people don't realize how much work goes into maintaining this organization, which is absolutely integral to climber's access in the West Kootenays. Without you, Kinnaird would be a quarry, Waterline would be covered in No Trespassing signs forever and climbers wouldn't have a local organization to turn to for any future access issues.
And guaranteed there will be some. It's no longer enough for us climbers to wander onto public land and assume we can develop a crag. For example, a climber is currently facing fines of up to $60,000 by the Vancouver Parks Board for doing some spring cleaning at a cliff that's been used by rock climbers for years. The Climbers Access Society of British Columbia, of which TAWKROC is a chapter, is helping with the legal fees on that one because it could set a scary precedent: public park charges rock climber $60,000 for routine cleaning of a popular crag.
Now to discuss the access issues currently facing all of us during the Covid-19 epidemic. As of today, TAWKROC is still respectfully asking people to refrain from cragging. However, as with everything during this unique time, tomorrow could be different. Walls are beginning to open up in places like New Brunswick so no doubt we'll see a shift happening in the outdoor community across the country. That all said, please note if you're visiting Kinnaird just to go for a hike for example, you must complete the online waiver mentioned on the sign as you enter the property because your waiver only lasts one calendar year. Otherwise you're trespassing. The final word about Covid for tonight is that it will be up to the new board, new president and new Kootenay representative of CASBC to determine.
Which brings me to the announcement that I'm resigning from both TAWKROC and CASBC this month. I've been on the CASBC board for over six years and am a founding member of TAWKROC. The board members of both are like my extended families and I'm sorry to say goodbye, but my immediate family is growing by one soon and I want to dedicate more time to them. And so, I'm very thankful that my last role as president of TAWKROC is to share with you these three pieces of great news.
Firstly, we've confirmed that none other than Peter Croft will be the guest speaker at the 2020 Kootenay Rock Climbing Festival. Of course, we'll see how Covid plays out but not only has Peter agreed to speak, he'll also be offering a climbing skills clinic.
Secondly, TAWKROC has received a $30,000 grant from the Columbia Basin Trust to put towards the Waterline Walls purchase. The money comes from the CBT's new Land Acquisition Grant and we are its first recipients.
And the third piece of good news is, thanks to generous donations from local climbers, organizations and, of course, the $30,000 from the CBT, TAWKROC is now able to move forward with the purchase of Waterline. The legal documents are drawn up and once the current owner finalizes things with the city of Castlegar, which shouldn't take long, we will be able to move ahead with buying Waterline so we can climb there, our kids can climb there, our grandkids, etc. And on that happy note, I'll hand it off to Ian McDonald, chair of our Waterline Subcommittee to do a more in-depth report of what's going on.
---
Waterline Subcommittee Report
• Many donors have made this possible. See major donor list above.
• We received the CBT grant of $30,000.
• We've gone through many hoops and the city has approved the subdivision
---
Plan for the next year and other news
• Focus will be on purchasing Waterline, and getting legalease (signage and waiver) in place to open it to climbing.
• We also want to work on kiosks, signage for ethics, and looking into garbage and outhouses.
• TAWKROC stressed the importance of being good neighbours to the people who live around the Kinnarid property. Having climbers show up during this time of Covid is not conducive to that. To that end, we respectfully ask people to not climb there for the short term.
---
Nomination and election of directors
The following people are voted in by acclamation: Ian McDonald, Yann Troutet, Daren Tremaine, Greg Amos and Brandon Weller
---
Nomination and election of directors
• Yann Troulet and Craig Stowell express appreciation for the directors stepping down and how far we've come since acquiring Kinnaird.
• Vince expresses the board's appreciation of the climbing community and it's support of TAWKROC's activities.
• Vince calls to adjourn the meeting, Yann Seconds.