At the recent TAWKROC AGM, a report was given about the status of the Waterline Walls purchase. A version of that report can be seen below. The Walls are still closed to climbers but a lot of work is being done to open the area again as soon as possible.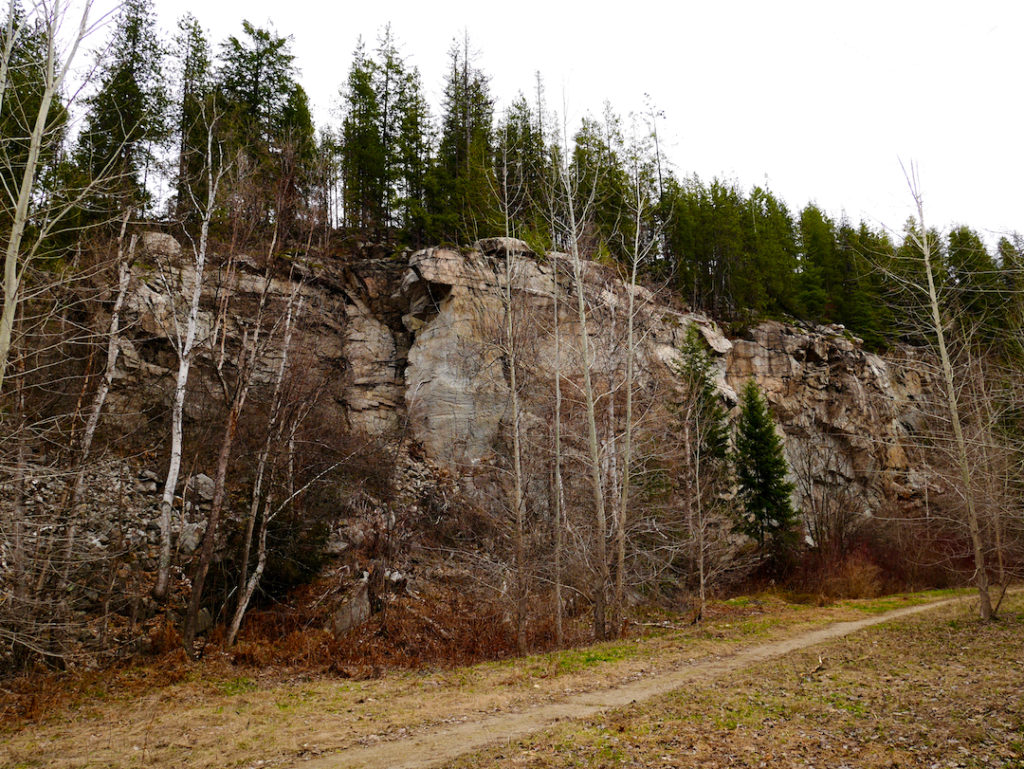 Waterline is an historic West Kootenay climbing area that has always been private property owned by a family who decided to put it up for sale last fall. Around that time "no trespassing" signs appeared on the property. Nelson rock climbing couple Mirek Hladik and June Ray purchased the property and asked for a letter of intent by TAWKROC to buy a subdivided portion of it that contains all the Waterline Walls (approximately 10 acres worth). TAWKROC held a special meeting in November 2018 to change our constitution to allow us to buy a second property. It was voted on and allowed. Therefore, a letter of intent was written to Mirek and fundraising kicked into gear.
The sale price of the property is $60,000 + subdivision fees + legal land survey ($6,500) and other costs so all told we'll be looking at a final cost of approximately $70,000 to $75,000 to purchase Waterline Walls. Currently we've raised about a quarter of that amount. Some big donations included $5000 from the ACC, $3000 from Cube Climbing Centre, $1000 from the KMC, $5000 from David Bristow and lots of smaller donations from the climbing community in BC. If you know people who haven't donated yet, please encourage them because we have a long way to go to make the sales price.

Recently the city of Castlegar agreed to the subdivision of the property but because we are a ways away from the final sale price, we are in talks with Mirek about a lease arrangement. We will not be purchasing the property with a loan like we did with Kinnaird because most grant funding opportunities do now allow recipients to pay off debt. The current hurdle, and why Waterline is still closed to climbing, is because of insurance.
Because TAWKROC currently owns another property and doesn't have a way of monitoring who uses it, so insurance companies are not keen to cover us. We currently have directors and officer's (D&O) insurance but we no longer have commercial general liability (CG&L) insurance, which in theory covers us should we lose a court case due to a civil suit. So far 15 insurance companies have refused to provide us CG&L coverage.
We are now looking at other models in order to get insurance. For example, in Kentucky there's similar legislation to BC's Occupiers Liability Act and for climbers to use Red River Gorge area, they have to sign an online waiver. We might have to do something similar for Kinnaird and Waterline as well as put signage in place about the property being private and those who don't sign the waiver are considered trespassers and have no legal right to sue. This will help to entice insurance companies.
Please visit our GoFundMe page by clicking the button below if you'd like to donate. For donators who wish to receive a charitable tax receipt, contributions can be made through the Climbers' Access Society of British Columbia website (access-society.ca/Donate). Be sure to indicate the funds are for Waterline by writing, "I Support Waterline."