Wednesday, April 17, 2019, 7pm
Mary Hall, Nelson, BC
AGENDA
1. Welcome and call to order
2. Approval of agenda
Yann Troutet motions / Erin Bates seconds
3. Introductions
9 directors are: Vince Hempsall, Craig Stowell, Dave Lussier, Bob Sawyer, Khaled BenRabha, Shawn Tasker
6 director's terms are up (VH, CS, DL, BS, KBR, ST)
They need to get re-elected
Shawn Tasker and Dustin Eagleston are stepping down.
5 directors intend to run again.
4. President's report (by Vince Hempsall)
It's been one of the busiest years for TAWKROC since its inception. A list of events since March '18 include:
Reel Rock 12
Dirtbag film
Trail work days off Svobda Rd: Ant Hill and Sunnyside, specifically.
The 7th Annual Festival and the first-ever bouldering comp in the Kootenays
Paying off Kinnaird Bluffs
Waterline anchor replacement
Followed by the Waterline property coming up for sale and numerous meetings with various interested groups
Free Solo
Finley's Fundraiser
November 2018 Special General Meeting
Dawn Wall
Reel Rock 13 x 2
And of course the big fundraising effort towards the purchase of Waterline Walls with a short-term lease to be put in place with the current owner once Insurance is worked out.
TAWKROC is at an important junction. Where once we enjoyed the occasional meeting and work party, we are now arranging monthly events, managing a growing membership and dealing with insurers, lawyers and financial transactions worth tens of thousands of dollars. This requires every director to dedicate at least 8 hours per month to the organization for the next year in order to see the Waterline purchase through, to dial in our insurance, to increase membership, to manage Kinnaird, to improve our online offerings such as membership portal and so much more. My main job in the coming year (assuming I get re-elected) is going to be doling out responsibilities to all directors that will include:
Waterline purchase
Insurance
Membership
Website and social media
Accounting
Festival
Film Nights
Physical Maintenance (including anchor replacement, sign creation, trail work, etc)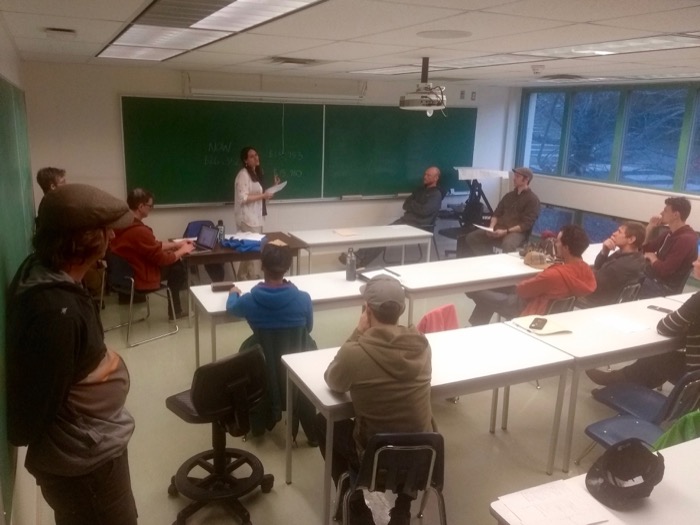 5. Treasurer's Report (by Dustin Eagleston – see Addendum A)
Expenses for the past year (Mar 1-Feb 29): $14,953
Income for the year: $28,371 from GoFundMe, Films, etc
Monetary Assets as of Mar 1, 2019: $13,418
Monetary Assets as of Apr 17, 2019: $26,352
Kinnaird Assessment: $65,400 (up 30% since 2016)
Approval of treasurer's report: Craig Stowell motions. Bob Sawyer seconds.
6. Waterline Committee Update (by Ian Macdonald)
Waterline is an historic West Kootenay climbing area that has always been private property, that was put up for sale last fall. Nelson rock climbing couple Mirek Hladik and June Ray purchased the property and asked for a letter of intent by TAWKROC to buy a subdivided portion of it that contains all the Waterline Walls (approximately 10 acres worth). TAWKROC held a special meeting in November 2018 to change our constitution to allow us to buy a second property. It was voted on and allowed. Therefore, a letter of intent was written to Mirek and fundraising kicked into high gear.
The sale price of the property is $60,000 + subdivision fees + legal land survey ($6,500) and other costs so all told we'll be looking at a final cost of approximately $70,000 to $75,000 to purchase Waterline Walls. Currently we've raised about a quarter of that amount. Some big donations included $5000 from the ACC, $3000 from Cube Climbing Centre, $1000 from the KMC, $5000 from David Bristow and lots of smaller donations from the climbing community in BC. If you know people who haven't donated yet, please encourage them because we have a long way to go to make the sales price.
Recently the city of Castlegar agreed to the subdivision of the property but because we are a ways away from the final sale price, we are in talks with Mirek about a least arrangement. We will not be purchasing the property with a loan like we did with Kinnaird because most grant funding opportunities do now allow recipients to pay off debt. The current hurdle, and why Waterline is still closed to climbing, is because of insurance.
Because TAWKROC currently owns another property and doesn't have a way of monitoring who uses it, insurance companies are not keen to cover us. We currently have directors and officer's (D&O) insurance but we no longer have commercial general liability (CG&L) insurance, which in theory covers us should we lose a court case due to a civil suit. So far 15 insurance companies have refused to provide us CG&L coverage.
We are now looking at other models in order to get insurance. For example, in Kentucky there's similar legislation to BC's Occupiers Liability Act and for climbers to use Red River Gorge area, they have to sign an online waiver. We might have to do something similar for Kinnaird and Waterline as well as put signage in place about the property being private and those who don't sign the waiver are considered trespassers and have no legal right to sue. This will help to entice insurance companies.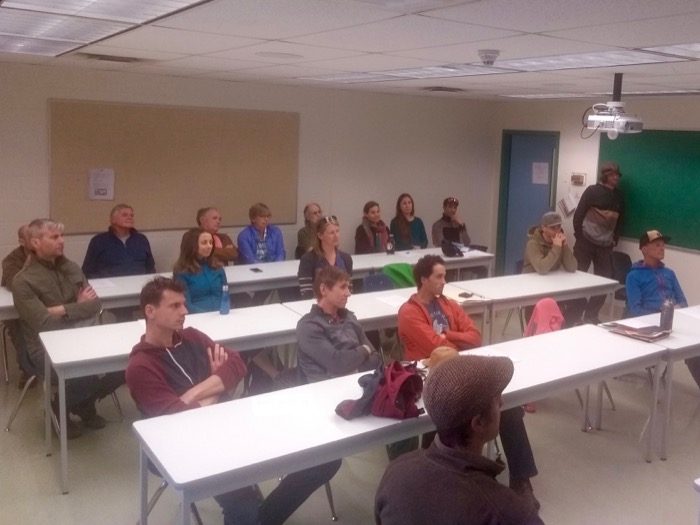 Questions from the floor included:
Are the membership protected under Director's Insurance?
Yes. From our Current D&O Policy – see (a) below:
"Insured Person(s)": "You" "Your"
Applicable to Non-Profit Organization
(a) Any persons who were or now are directors, officers (including de facto directors and officers), trustees, volunteers or members of any duly constituted committee of the "Named Insured(s)";
(b) The functional equivalent of any duly elected or appointed director or officer of the "Named Insured(s)" in a foreign jurisdiction.
(c) The estates, heirs, legal representatives or assigns of directors, officers, trustees, employees, volunteers or members of any such committees in the event of their death, incompetency, "Insolvency" or bankruptcy.
(d) any past, present and future employee of the "Named Insured(s)" including part-time, seasonal and temporary employee, but not an independent contractor"
Have you spoken with Ontario Climbers Association re: their ownership of Baldy? [Craig to contact]
Have you spoken with Victoria Climbers Association re: their ownership of another crag? [Vince to check]
Acceptance of the Waterline Sub-committee report: Dusty Eagleston motions. Dave Lussier seconds.
7. Nomination and election of Directors
Call for candidates: Jayme Moye and Delia Roberts put their names forward. Therefore, because six people are running for six spots, no vote is necessary.
8. Questions, comments, adjournment
Vince Hempsall motions adjournment. Dave Lussier seconds.