For the second year in a row, Nelson, British Columbia, will host the best rock climbing films of the past year. REEL ROCK 12 will be shown at the Civic Theatre on Wednesday, January 31st and tickets can be purchased at the Cube Climbing Gym or on the Civic's website. Doors open at 6:30pm.
The event is being hosted by the Association of West Kootenay Rock Climbers (TAWKROC) and all proceeds will go towards the Save Kinnaird Bluffs fund. Like last year there will be lots of free giveaways as well as a raffle draw for prizes including a new Canada Goose down jacket.
REEL ROCK 12 showcases four new short films from around the world that deliver heart-thumping action, big laughs, and pure inspiration. Featuring Margo Hayes, the first woman to climb 5.15; Brad Gobright, an up-and-coming free soloist with a donut addiction; the return of Chris Sharma to deep water soloing; and introducing Maureen Beck, a one-handed crusher who's defying gravity and convention. See below for the trailer as well as descriptions of each of the four films being shown.
---
BREAK ON THROUGH
In high-end modern rock climbing, 5.15 is the top of the difficulty scale, a grade achieved by only a few men and never by a woman. Margo Hayes, a little known 19-year-old from Boulder, Colorado, is determined to change that. To be closer to the world's hardest routes, she has moved to Europe, where she trains and climbs with the goal of succeeding on two of the most iconic 5.15s in France and Spain. But pushing her body and mind to the absolute limit, she risks injury and failure in her quest to be the first.
---
SAFETY THIRD
For most climbers, it's safety first. But Brad Gobright is definitely not most climbers. Fueled by day-old donuts and unhindered by a fear of falling, this young talent is pushing the limits of scary trad and free solo ropeless climbing. Having survived a few big scares, Brad is determined to make his boldest ascent yet — a first-ever free solo of a heart-stoppingly exposed and difficult route.
---
ABOVE THE SEA
Chris Sharma remains the world's greatest practitioner of deep water soloing — climbing ropeless above the sea. Ten years after his generation-defining ascent of a majestic arch, Chris returns to the Mediterranean island of Mallorca where he discovers a beautiful, sweeping wall with small holds running up its face. If he can link the moves, and endure the numerous heart-stopping plunges into the sea, he will establish what may be the world's hardest deep water solo climb.
---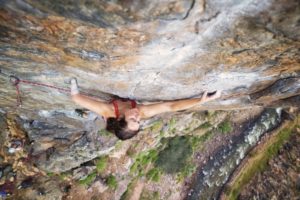 STUMPED
"I don't want to be known as just a one-armed climber," says Maureen Beck, "I just want to be a good climber." Maureen Beck may have been born missing her lower left arm, but that hasn't stopped her from going hard. She takes whippers on 5.12 and crushes overhanging boulders, while shot-gunning beers. But she is not here to be your inspiration. "People say, 'Look, a one-armed climber, now I have no excuses.' I'm like, dude, you never had any excuses in the first place." Maureen is here to crush the gnar — with one bloody stump helping her get to the top.