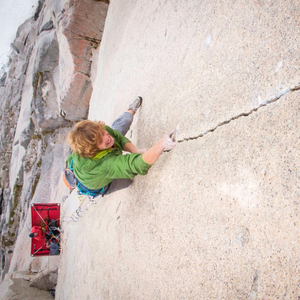 The Kootenay Rock Climbing Festival is pleased to announce Canadian rock climbing star Will Stanhope will be guest speaking at the event being held Saturday, September 23th in Robson, British Columbia.
Stanhope, who resides in Squamish, has innumerable rock climbing ascents to his credit and last month completed one of the hardest climbing achievements ever done on Canadian soil: he and British climber Leo Houlding climbed all three west faces of the Howser Towers in the Bugaboos, East Kootenays, in 23.5 hours. Normally it takes rock climbers a full day to do just one of those routes.
Stanhope will be speaking about that accomplishment as well as his experience doing the hardest free climb in the Bugaboos last year. Aftewards he will open up the floor for questions from attendees of the festival.
Organized by TAWKROC, the Kootenay Climbing Festival is now entering its fifth year and features three components: the evening presentation with Stanhope and the daytime, family-friendly event between 2:00 and 7:00pm by the natural rock climbing wall behind the Lions Head Pub. It includes:
zipline for the kids
slackline
door prize draw
top-ropes on the 11 rock climbing routes located on the natural rock wall
silent auction
and the always popular Tower of Power competition, which sees competitors try to stack the most number of milk crates while standing on them!
The third component of the festival occurs on Sunday the 24th and features clinics taught by ACMG-registered rock climbing guides. There will be a women's climbing clinic, a new routing clinic and a rock rescue clinic. And for the first time this year there will be an organized bouldering tour that will showcase the many areas between The Lion's Head pub and Syringa Provincial Park.
The Lion's Head now has a family dining license, which allows children to come and go from the restaurant any time before 10:00pm. (They must be accompanied by an adult.) Everyone young and old are welcome at the festival and there is no coverage charge, although, as this is a fundraiser to help pay down the debt that was incurred when TAWKROC purchased Kinnaird Bluffs, donations are welcome.