On Saturday, June 24, 2017 about 20 volunteers arrived at the Slocan Bluffs in Slocan City to take part in the Adopt-A-Crag day co-sponsored by TAWKROC and CASBC.
The day started with a thorough brushing of the weeds at the bases of all the routes from the parking lot to the tunnel. Two weed eaters were used to trim back the undergrowth and once that was done people selected various climbs to scrub. One volunteer even brought a pressure washer with 100 feet of hose, which was used to scour the dirt of four different climbs.
Here's a list of all the things done at Slocan Bluffs during the Adopt-a-Crag day:
Cleared brush at the base of all routes from parking lot to the tunnel.
Rebuilt the trail to "Under The Big Top" and reinforced one section of side trail with lumber.
Built a platform with retaining wall at the base of "Under The Big Top."
Cleared and flagged a trail to Cheddar Wall.
Cleaned a dozen routes and pressure washed four of them.
Replaced rusted hardware on seven routes.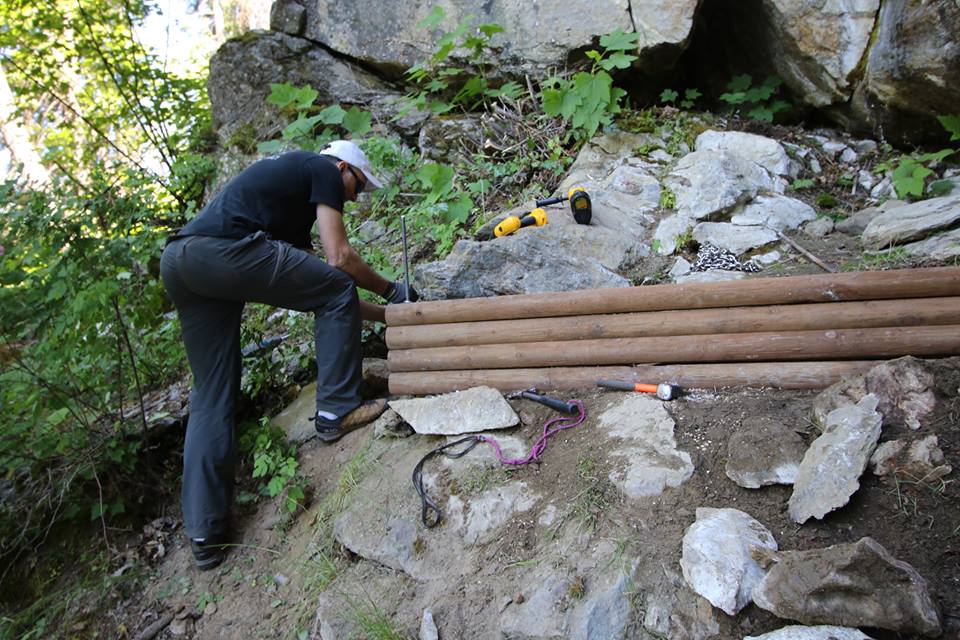 The following routes were cleaned:
Don't Pull Too Hard Baby
Funky Earth Mother Chick
Sahara (+ pressure washed)
Industrial Disease (+ pressure washed)
Booms 'n Busts
It's a Mirekle
Pi
The Big Easy
Path of The Body
Virgins in Peril
Noise Pollution (+ pressure washed)
Chronic Fatigue (+ pressure washed)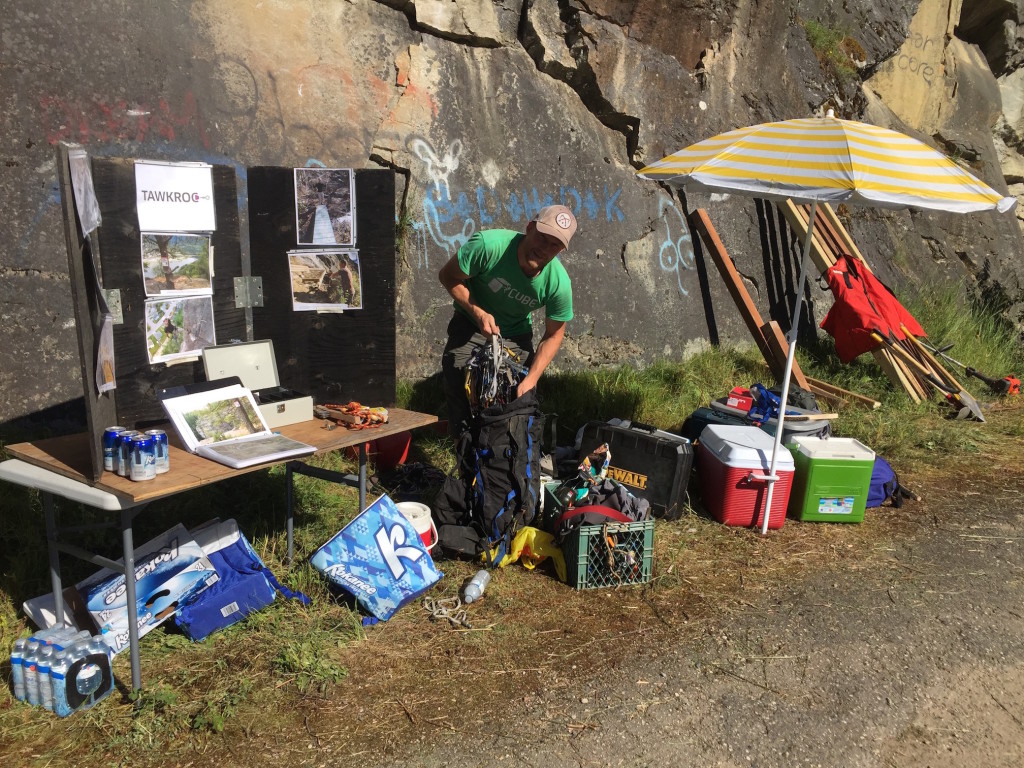 Rusted hardware was replaced on the following routes:
Chronic Fatigue: replaced anchor
Noise pollution: replaced 2 old bolts
Virgins in Peril: added 1st bolt to avoid run-out off the deck
Path of the Body: replaced anchor
Big Easy: replaced all SMC hangers & 2 studs
It's a Mirekle: replaced all SMC hangers
Booms 'n Busts: replaced all SMC hangers
The cost of the hardware alone for the day was upwards of $100 and there are still routes that need upgrading, such as the chains on the aptly named "Rusty Chains." Please consider becoming a member of TAWKROC (it's only $10 a year) to help with the cost of purchasing hardware and you can also make a donation by clicking here.
Here are more pics from the Adopt-a-Crag day at Slocan Bluffs taken by Will Neustaedter: