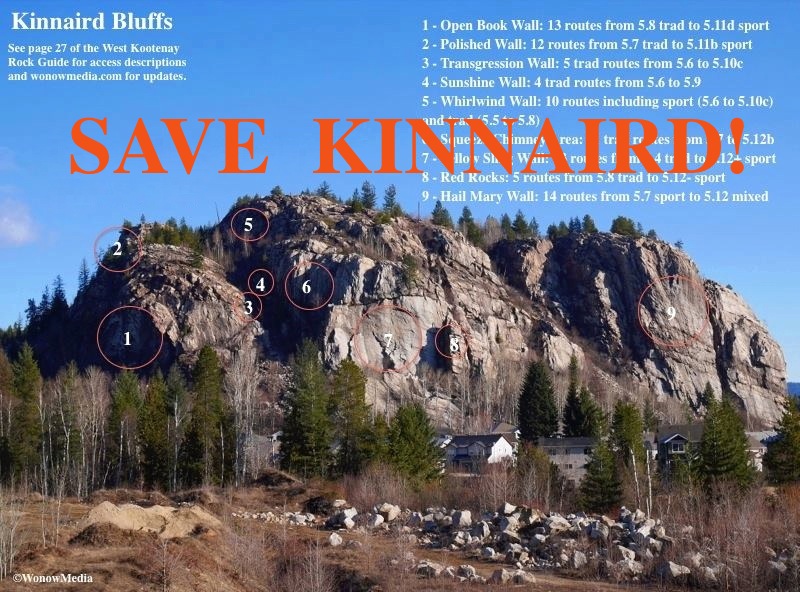 Kinnaird Bluffs in Castlegar, British Columbia, were for sale and TAWKROC managed to save them from development by raising donations and taking out a loan to buy the 17-acre piece of property. This area was worth saving because it's one of the most historically significant crags in the province (people have been rock climbing and practicing their mountaineering skills on them since 1956) and there are currently 70+ trad and sport rock climbing routes there. TAWKROC's end goal is to work with local and provincial bodies to create a park that can be used by hikers, rock climbers and other outdoor aficionados in perpetuity.
Update – Sept 9, 2016
Kinnaird Bluffs have been purchased but there is still a lot of money that needs to be paid back to our angel investor! The Association of West Kootenay Rock Climbers is now on title for the 17-acre property in Castlegar upon which the bluffs are located. Thank you to all those individuals and organizations that saw the value of this important and historic resource and donated. We managed to raise 70% of the purchase price and were loaned the final 30%, which we will have to pay back in the next year. If you were waiting to see if all of this was official, it is, and so now we encourage you to donate to TAWKROC to help us pay back our creditors. Again we thank all those who have already donated. Stay tuned for more announcements about Kinnaird Bluffs in the coming weeks.
How You Can Donate to the Kinnaird Bluffs Fund
TAWKROC directors have reached out to the following for donations and help:
A crowd-funding campaign and CASBC donations have raised approximately $7,000
Columbia Basin Trust grant application
ACC environmental fund grant of $5000
CASBC has donated $3,500
MEC grant application – declined
Castlegar Rotary Club
Kootenay Mountaineering Club has agreed to match any donations by it's members up to $1000
Kootenay Climbing Association (Society that runs the Cube Climbing Gym) will donate

Press the above button to donate via the CASBC homepage and once there, follow these directions:
Press the donate button on the homepage
Enter the amt you wish to donate
Click the "Log in" to Paypal button below
On the left, underneath "Climbers' Access Society of BC" you'll see "Add special instructions to the seller."  Click that.
In the field that opens, type "For Kinnaird Bluffs purchase."
Click the "Donate" button at the bottom of the screen.
CASBC will issue the tax receipt.
If you would like more information about the Kinnaird Bluffs Project, please email Vince Hempsall, the Kootenay Director of the Climbers' Access Society of BC at vhempsall@access-society.ca.
Huge kudos to all the rock climbers and individuals who donated. We'll be sending personal thanks your way soon and are currently looking into ways to honour your generosity, whether it's on a plaque or sign or some other medium at Kinnaird.
Media Coverage
To date the "Save Kinnaird Bluffs" campaign has been featured on CBC Radio news, CBC Radio's Daybreak South, in the Castlegar News, and on Shaw TV (the clip of which is shown below). If you have any photos, video or stories of the bluffs and why they're important to you, please email them to Vince Hempsall so we can use them during our pitches to the various organizations listed above.