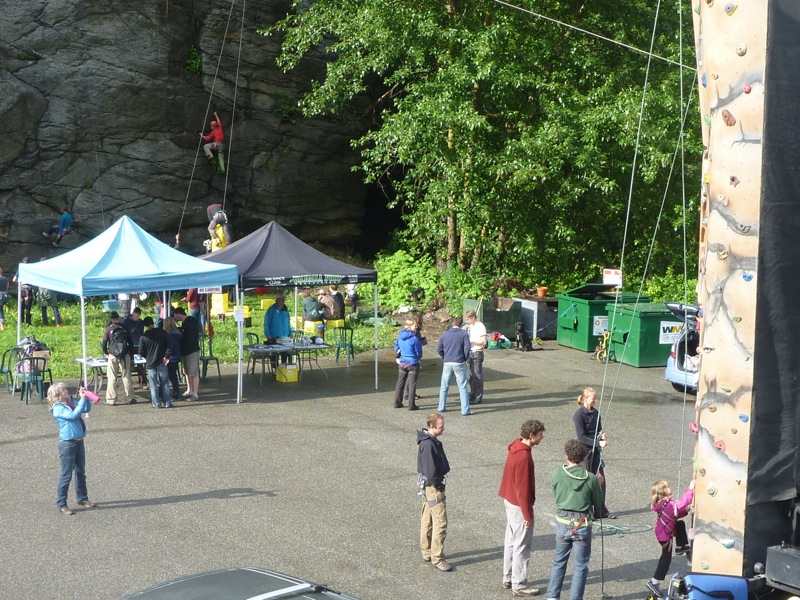 Kudos to the Kootenay climbers for proving that even record rainfall can't keep us off the rock!
On Saturday, June 23rd the first ever Kootenay Climbing Festival took place at the Lion's Head Pub in Robson and, although the day began with a thunderstorm and 40mm of rain, the skies cleared at 3pm and the event was a go. Approximately 80 people showed up (including two from Creston and two from Croatia!) to enjoy the slackline, portable climbing wall, zip line, and the popular "Tower of Power" contest, which had people stacking milk crates while standing on them. Later in the afternoon the rock even dried out enough for people to tackle the routes on the crag behind the pub.
Organized by TAWKROC (The Association of West Kootenay Rock Climbers), the Festival was the first of its kind in the area and its intent was to raise funds to bolt new outdoor routes and retrobolt unsafe climbs with hardware dating back as late as the 1960s. Aside from the outdoor activities the event also included a silent auction, prize give-aways, a presentation by local ice climber Margo Talbot, a film by Will Gadd, and a movie about Warren Macdonald's epic foray up El Capitan. (Warren is a Slocan Valley resident and double above-knee amputee who scaled El Cap over three days – an effort that required 2,800 pull-ups.)
Speaking of pull-ups, no climbing event would be complete without an alcohol-infused competition of strength and after many of the festival attendees left the Lion's Head around 10:30, an impromptu contest unfolded amongst the remaining patrons. Using a reinforced rafter in the bar, Castlegar residents Paul Markin and Candice Randle blew away the competition with their pull-up prowess and were crowned the Kootenay's King and Queen of Clout.
A special thanks goes out to the sponsors of the Kootenay Climbing Festival: Valhalla Pure Nelson, ROAM, Outdoor Research, Mountain Sense, Summit Mountain Guides, the Climbing Access Society of British Columbia, La Sportiva, and, of course, the Lion's Head Pub.
Should you wish you make a donation to TAWKROC to help with new route development, please log on to www.tawkroc.org
See you at next year's festival!
For more about the festival, please see the vid below. Thanks to Sonja Podstawskyj for putting the fantastic film together showing highlights from the Kootenay Climbing Festival on June 23, 2012, including the rain of "biblical proportions."