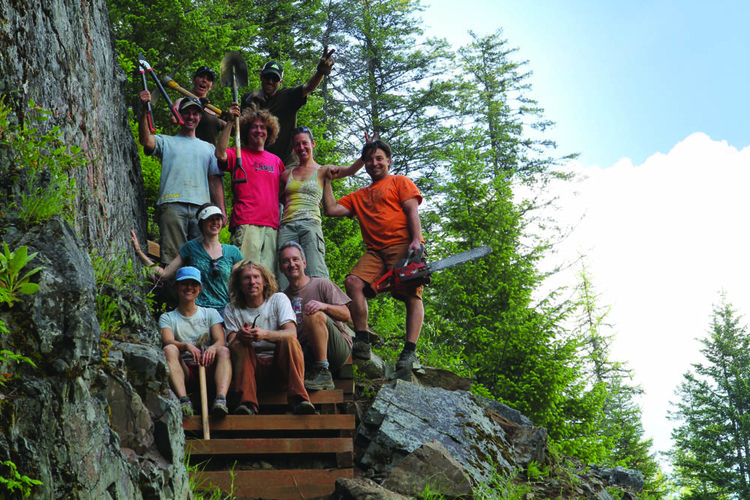 When the TAWKROC Board of Directors first learned about the CASBC (Climbers Access Society of BC) Adopt-A-Crag program whereby funds are available for the maintenance or improvement of climbing access for existing crags, it opened up a whole new world of possibilities. If we could provide the man power, planning and organization, CASBC would provide the funds for tools, materials, consulting expertise and even corporate sponsorship (read: free swag)!
We discussed a number of possibilities including trail building at Grohman Narrows, CIC and the Upper Slocan Bluffs, stairs at the Golf Ball/Squatters area and an outhouse at the Waterline. Ultimately we decided the area that would benefit most from what we believe to be the first of several projects, was new stairs and belay platforms at Hall Siding. The popular Nelson crag boasted good access and 12 longer routes with a good range of grades.
The total project of building a staircase from the parking level, up to and around the base of all climbs was budgeted to come in at ~$1800 and would be split into 2 stages. The first stage involved purchasing pressure treated lumber, rebar, chains and a selection of tools which would be kept by TAWKROC as the West Kootenay CASBC tool cache for future projects.
On June 19, 2010 a group of ~20 motivated individuals including some members of the TAWKROC Board of Directors donated a day to complete stage one of the Hall Siding project.
The new improvements to the crag inspired one of its initial developers Mirek Hladik to add the new line "Faja's Day" a 5.10c that takes the arete between "Crime Scene" and "You Crack Me Up".
Stage two saw the creation of belay platforms extending all the way to the far right end of the crag. A dedicated crew of individuals worked tirelessly through rainy conditions on May 28, 2011 to complete the remaining steps and belay platforms at this local climbing area.
Here are some pics from the project: