The Association of West Kootenay Rock Climbers (TAWKROC) held its 8th annual Kootenay Climbing Festival September 21-22, 2019. It featured daytime, family-friendly events on and beside the natural rock climbing wall behind the Lions Head Pub including: a zipline for the kids; a slackline; top-ropes on the 11 rock climbing routes located on the natural rock wall and the always popular Tower of Power competition, which sees competitors try to stack the most number of milk crates while standing on them. (The record this year was 23 and, for the first time ever, it was set by someone older than 12.) New for this year was the portaledge setup, which participants could climb to and rest on.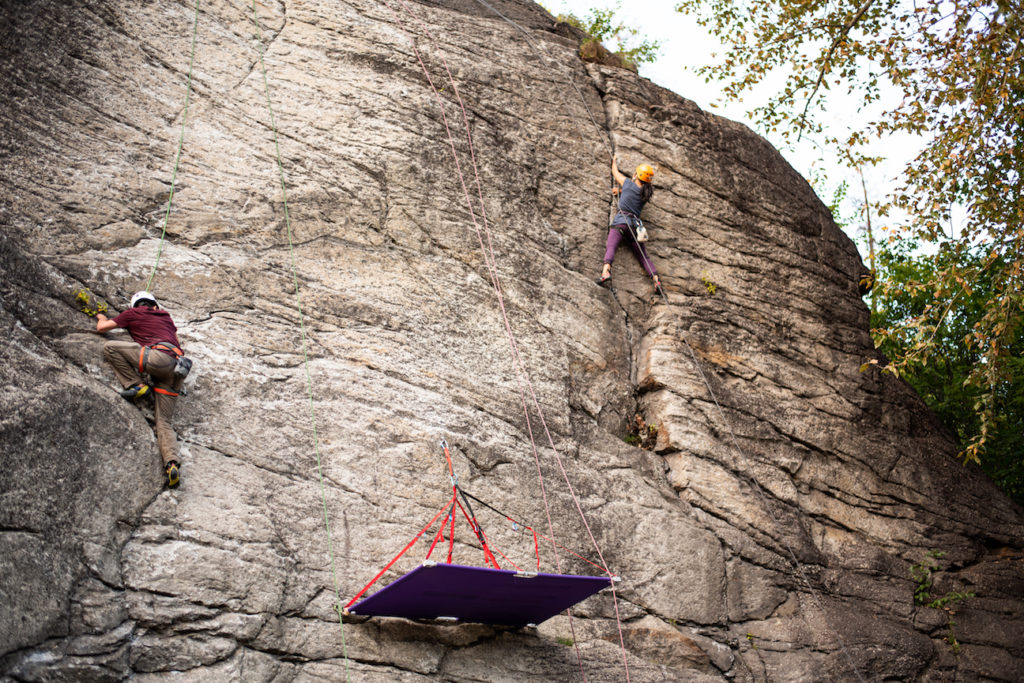 Also new this year was we hired pro photographer Nadine Prémont of Jovita Photography to capture the daytime activities and the evening's presentation by Canada's best rock climber Sonnie Trotter. Below are just some of the over 300 photographs she took during the event and we were taken aback by how many smiling faces there were!
During his presentation, Sonnie talked about his beginnings in Ontario, why he decided to stop chasing sport grades and start projecting hard trad routes, and his adventures with the likes of German Alex Megos and Americans Tommy Caldwell and Alex Honnold. He even showed a slide of Honnold looking gripped and desperate on a new 5.13 in Yosemite Valley – probably the only photo that exists of him looking scared. He also shared the secret to looking like a badass: don't smile.
The following day Sonnie taught a performance clinic at Waterline Wall and was joined there by ACMG guide Jasmin Caton who taught a women's clinic. This was a special, one-day-only experience in which the current property owner opened Waterline for the clinics after arrangements were made regarding insurance for the day. David Lussier taught a route development clinic at a new crag in Castlegar and Delia Roberts hosted a clinic at Kinnaird Bluffs to introduce those who were relatively new to rock climbing to outdoor walls. ACMG guide Silas Patterson was on hand to teach that one and it was supported by the Kootenay Mountaineering Club. The photos below were taken by TAWKROC directors Vince Hempsall, David Lussier and Delia Roberts plus clinic participants.
A special shout-out to the volunteers including Shawn, Julie, Dan, Jonas, Viv, Stacey, Veronica, Kay, Eric, Erin, Marley, Jeff, Dusty, Steve, Zach, Will, Heather, David, Michelle, Alexandra, Jason as well as all the TAWKROC directors (seen below) who put a ton of time into the organization of the weekend: Dave, Khaled, Craig, Vince, Jayme, Yann, Delia and Ian.
Also, thanks to our sponsors who supplied items for the raffles and silent auction including VPO Nelson for the gift certificates and prizes totalling $500, Powderhound for the Mammut belay device, CASBC for the new climbing rope, ROAM, Snowpack, the Cube, Summit Mountain Guides, Kootenay Mountain Culture magazine, Flux Climbing Gym, Black Diamond, Wild Air Photography, Big Cranium, Stellar Heliskiing, Mallards Castlegar, Marks Castlegar, Cycology, Oranj Yoga, Tailout Brewery, Boston Pizza, Kootenay Kambucha, Bombi Restaurant, Bagles n Brew, Buddha Bistro, Cuisine of India, Mitchells, Castlegar Massage, Darren Pottle, Chris Mansbridge, the Flying Steam Shovel, Rossland Beer Co., Mountain Nugget, Baldface, Retallack, Kootenay Gateway, Ferraros. And of course, huge thanks to Troy and Carly at the Lions Head Pub who have supported us and acted as hosts for this event since the very beginning.
If you missed the fun and would like to help TAWKROC buy Waterline Walls to ensure it remains a rock climbing destination in perpetuity, please log on to our donation page.