The Association of West Kootenay Rock Climbers (TAWKROC) today announced it has so far raised $15,000 to put towards the purchase of the Waterline rock climbing area in Castlegar, British Columbia. This is approximately 20 percent of the total price the current landowners are asking. The fundraising campaign has now launched into Phase 2, which focuses on corporate donations and grants.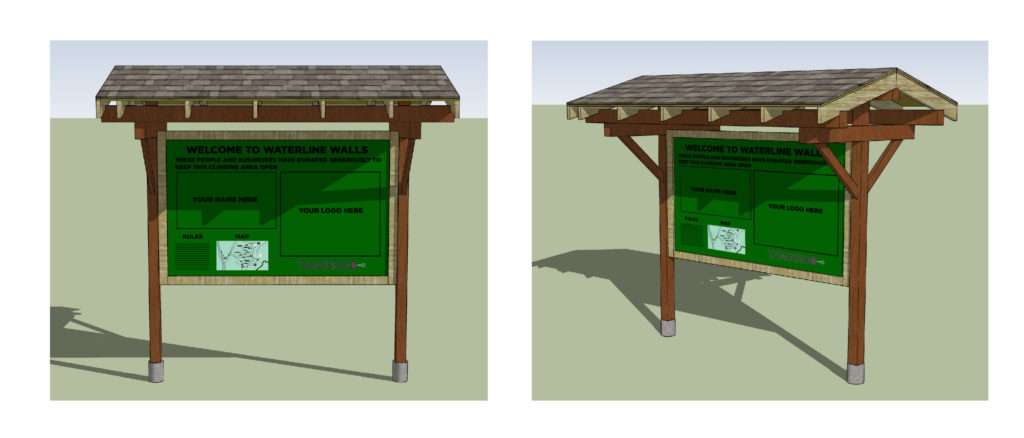 The Waterline Walls, located off 14th Avenue, are the most popular sport climbing destination in the West Kootenay region and this past summer the private property on which they're located came up for sale. The new owners do not want people climbing on their property but they are willing to subdivide the land, that includes the six walls upon which about 70 rock climbing routes are located, and sell it to the Association. Until an agreement is reached, climbers are restricted from the property.
Personal donations have made up the bulk of the fundraising efforts so far, including one by Castlegar climber David Bristow for $5,000. (Donations continue to be collected on a GoFundMe page.) Now TAWKROC is seeking corporate and organization donations and grants and, in return, will be placing the names of the donators on a kiosk that will reside on the Waterline Walls property. Different donation levels are available and this is what each receives:
Basecamp Level ($500 – $999)
Name placed on the Waterline Kiosk
1 post mention on TAWKROC's social media channels recognizing their generous sponsorship
High Camp Level ($1000 – $2999)
Name and 6"x6" logo on the Waterline Kiosk
3 post mentions on TAWKROC's social media channels (over 6 months) recognizing the generous sponsorship
Summit Level: ($3000+)
Name and 1'x 1' logo in a prominent place on the Waterline kiosk
6 post mentions on TAWKROC's social media channels (over 6 months) recognizing the generous sponsorship
Press release thanking sponsors at this level for the donations
Name and logo on the TAWKROC website for two years
For donators who wish to receive a charitable tax receipt, contributions can be made through the Climbers' Access Society of British Columbia website (access-society.ca/Donate). Be sure to indicate the funds are for Waterline by writing, "I Support Waterline."
Already, TAWKROC has received generous donations from the Kootenay Mountaineering Club, which gave $1,000 to the campaign, and the Cube Climbing Gym, which donated $3,000.

TAWKROC was established in 2009 to help promote outdoor rock climbing in the Kootenay region by maintaining rock climbing areas. In 2012, TAWKROC became a chapter of the Climbers' Access Society of British Columbia and its directors are now committed to ensuring climbing areas in the Kootenays remain accessible for all.
Once the subdivision has taken place and the purchase of Waterline Walls has been completed, TAWKROC will start discussions with the City of Castlegar and, as we'd also like to do for Kinnaird Bluffs, set about donating it as a community recreational park.