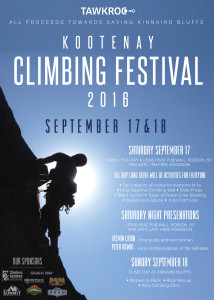 For the fourth year in a row The Association of West Kootenay Rock Climbers hosted the Kootenay Climbing Festival but this time it was expanded to a two-day event (Sept 17&18) and it proved to be the most well-attended festival yet!
Saturday's activities were held as usual at the Lions Head Pub in Robson, the only bar in Canada with rock climbing in its backyard. Family activities were offered outside during the day and then in the evening everyone went inside the pub to watch two presenters speak:
Jasmin Caton: a local sponsored rock climber shared tales from her adventures around the world. To see photographs from her presentation, click here.
Peter Rowat: a mountaineer who flew from his home in California to attend the event and speak about his early forays into the Valhallas in the 1970s when he bagged first ascents of a number of different pitches. To see photographs from his presentation, click here.
Then on Sunday two different clinics were offered including a rock rescue course with ACMG guides David Lussier and Bob Sawyer, and a female climbing course run by Jasmin Caton, who is also an ACMG guide.
The event was also a success in terms of funds raised: attendees and clinic participants donated and helped TAWKROC raise about $2,000 to put towards the $15,000 debt incurred when purchasing Kinnaird Bluffs. To learn more about that endeavour and, in case you missed the festival and would like to help secure Kinnaird as a rock climbing destination in perpetuity, see our Help Save Kinnaird page.
For a full rundown of the festival, and to see photographs, check out our Festival Recap blog post here.